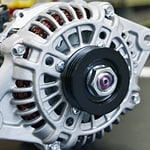 An alternator is a crucial component in the proper operation of your vehicle. Like many components of your vehicle, though, you've probably never given much thought to how your alternator works. Fortunately, we at Napleton's Autowerks of Indiana, Inc. have put together an essential guide to help you get up-to-speed on how your alternator keeps your vehicle running.
One of the most important jobs your alternator does is to charge your vehicle's battery. This is an essential job because the battery provides the power for your starter motor, meaning that if your alternator is dead, so is your vehicle. Once your vehicle is running, your alternator creates electricity from turning gears that are powered by your vehicle's engine. Essentially, your vehicle has a miniature power plant that you carry with you wherever you go in Schererville.
As with other vehicle components, your alternator can wear out over time. Rather than being stranded on the side of the road, though, you can bring your vehicle in for service at our dealership to ensure your alternator is functioning as it should be.