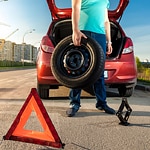 If you drive a vehicle, then you have a spare tire inside your vehicle. However, it is important to know the difference between a compact or "donut" spare tire and a full-size spare tire. Knowing the difference can keep you safe on the road.
A compact or "donut" spare tire is not designed for driving over a speed of over 55 miles per hour. Also, these compact spare tires are not designed for an extended drive. When driving on a compact spare tire, you should head directly to a location to get a full-size tire. A full-size spare tire will match the size of the other tires on your vehicle. You can use this tire as you would any other tire on your vehicle.
At Napleton's Autowerks of Indiana, Inc., we have a wide selection of full-size spare tires. These tires are designed to keep you safe at highway speeds. Plus, we offer these tires at competitive prices. Shop with us today.